Aquarius Reef Base is a comprehensive research and education program consisting of complementary assets that can be used together or individually to meet specific project needs. Aquarius Reef Base consists of the Aquarius undersea lab below the ocean; a life support buoy on the surface that houses power generators, air compressors and data connections; research vessels ranging from 30-43 feet in length; and a mission control center in Islamorada, Florida.
Undersea Lab
Aquarius Reef Base gives researchers and divers the convenience of living in their underwater field site without sacrificing the comforts of home. Made to withstand the pressure of ocean depths up to 120 feet, the 82-ton lab currently sits on a 120-ton stable platform in a sand patch adjacent to the deep coral reefs of the Florida Keys National Marine Sanctuary.
Continual power and telecommunications capabilities make Aquarius an ideal platform for research projects, advanced sensor development, long-term monitoring of coastal oceans and coral reefs and education and outreach. Web cameras operate during missions with cameras inside and outside Aquarius. Live broadcasts (webcasts and special videoconferencing opportunities) are frequently conducted that involve schools, museums, and aquariums across the country.

Floor Plan

Port

Starboard
The habitat itself is a 43-by-20-by-16.5 foot diameter steel cylinder divided into three compartments, with 400 square feet of laboratory and living space is available for operations and science. 
Wet Porch - the seawater interface and main point of entry
Two pressure locks known as the Entry Lock and Main Lock - 500 and 1400 cubic feet, respectively
Living quarters with six bunks, freshwater shower, toilet, instant hot water, microwave and refrigerator
Wireless internet, cellular telephones, video conferencing equipment and VHF radio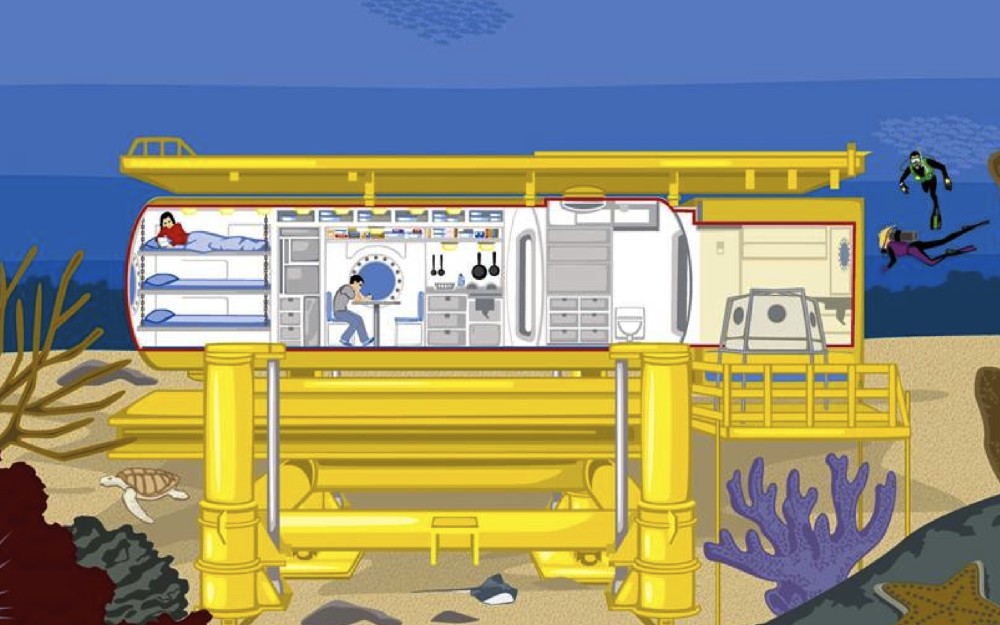 Specifications
15.4 kilometers (8.5 nautical miles) from Islamorada shore base
9 kilometers (5.4 nautical miles) offshore
Hatch depth/storage depth: 14 meters (46 fsw), 35 psi
63 feet below surface
Base plate positions habitat 13 feet off the bottom
Working depth in lab: 50 feet
Depth of bottom directly below: 18 meters (60 fsw)
Life Support Buoy
The 10-meter-diameter Life Support Buoy includes:
Communication tower
Over 70-square meters of inside workspace
Two diesel-powered 40 kW generators (image below)
Two 18.7 cfm air compressors (right image)
VHF radios, a cell phone, and a microwave broadcasting system
The buoy is linked to Aquarius by a 3-inch-diameter 42-meter umbilical which is comprised of hoses that supply air from the compressors and oxygen from storage flasks, power lines from the generators, and data and communications cables. The microwave telemetry system provides reliable audio, video, and data transmission between Aquarius and shore.
During missions, sensors use existing generator power from the buoy. When Aquarius is offline, sensors may be powered, depending upon demand, by the existing solar panels. The buoy can accommodate an alternate power supply (e.g., small diesel generator, additional solar panels or other) provided by the PI.
Vessels
Research vessels are used support Aquarius operations, science projects and education and outreach programming throughout the Upper Florida Keys.
R/V Sabina

Length: 43 feet
Divers: 8
Speed: 12-14kts

R/V Bond

Length: 42 feet
Divers: 10
Speed: 15-20 kts
Includes Transportable Recompression Chamber System

R/V Research Diver

Length: 30 feet
Divers: 8
Speed: 12 kts
R/V Rolling Rock
FIU dual-use passenger and research vessel
Available after March 15, 2022
Length: 45.7 feet
Draft: 5 feet
Max capacity for SCUBA cylinders: (16) 
36-inch by 12-foot stern platform at the waterline
Max passenger/science team capacity for overnight trips: (4) 
Range at cruising speed: 50 miles each way before refueling / 100-mile range before needing to refuel
Climate-controlled cabin with galley kitchen, V-Berth, stateroom, and two marine heads with shower.
Contact Roger Garcia at garcirog@fiu.edu for additional details and rates.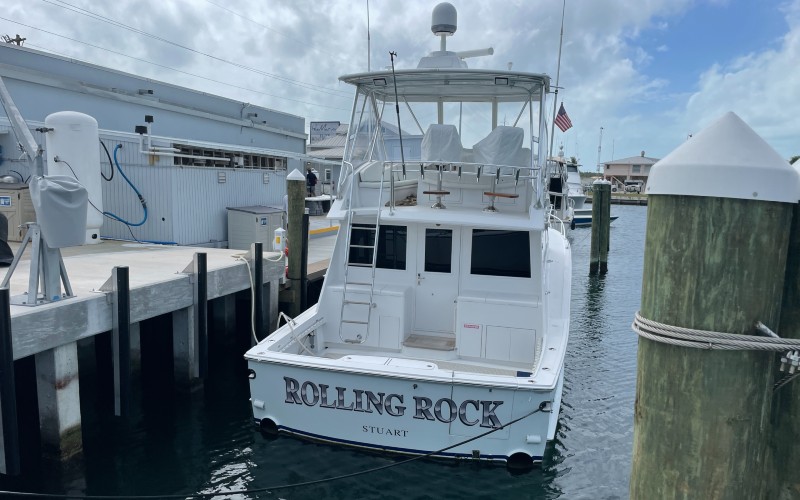 Shore Base
Our Shore Base in Islamorada, Florida, provides a staging area for marine operations, education and outreach activities. It includes:
Watch desk aka mission control for Aquarius projects
120 linear feet of dockage for a fleet of research vessels
Compressors for filling air and Nitrox cylinders
Dive locker and scuba equipment service area
72-inch hyperbaric recompression chamber
345-square-foot classroom