Title: Assessing the impact of hurricane Irma and recovery trajectory of epiphytic communities in coastal buttonwood and mangrove forests in the Everglades National Park
Principal Investigators: Hong Liu, Paulo Olivas, Cara Rockwell
Funding Amount: $195,414
Funding Source: National Park Service
Timeline: 04/2020–03/2023
On September 10th, 2017, Hurricane Irma exerted wind and associated impacts on the woody vegetation in the southern coastal portion of Everglades National Park. The impacted area includes buttonwood forests that are rich in epiphytes, including endangered orchids.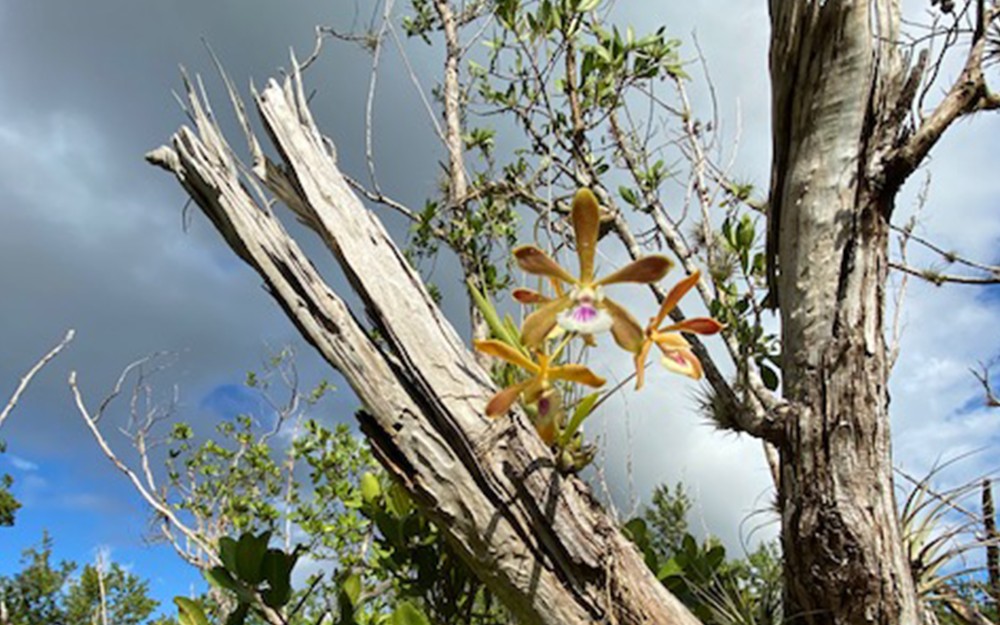 Utilizing pre- existing datasets, including those recorded by FIU scientists, the team is well poised to do the following three tasks: (1) assess the impact of Hurricane Irma on two threatened orchids; (2) characterize post-Irma conditions of the entire epiphytic plant community and their host forests in the area. Impacts of Irma on the host forests will be assessed using remote sensing techniques and in-situ field surveys; and (3) assess the post-Irma distribution pattern of the orchid mycorrhizal fungi community- orchids are the most vulnerable groups of the epiphytic plant community and dependent on the invisible mycorrhizal fungi community for part or all stages of their life cycle.
The information gathered by our research will advance our understanding of the current distribution pattern of orchids in the area, assess the impacts Hurricane Irma had on the epiphytes host communities, and establish a baseline for future assessment of hurricane impacts and other environmental changes on these vulnerable components of the coastal communities in Everglades National Park.
Read about related research in FIU News on how our scientists are trying to protect wild orchids in southern China or what the online orchid trade means for the plants.