Introduction to Saturation Diving: Aquarius Operations and Benefits to Science
The Aquarius undersea laboratory remains the world's last operational saturation diving facility specifically designed and dedicated to scientific research and education in the sea. Aquarius not only represents an extensive history of humans living underwater, but also continues to evolve to capitalize on opportunities.
 This course starts by taking students through the illustrative journey of undersea habitats and the development of saturation diving theory and practice. Students then learn the basics of saturation diving operations, equipment and procedures. Finally, an in-depth examination of relevant research missions conducted aboard Aquarius highlighting its' value to marine science and space exploration. This course is online with the option for certified divers to enroll in a week-long dive experience at the Aquarius Reef Base facility in Islamorada, Florida.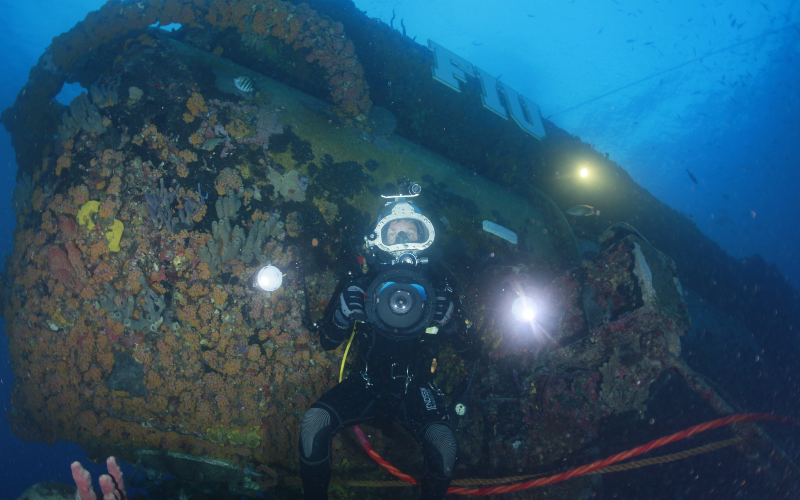 Kip Evans 
Enrollment options
Online-Only Option

Students enrolling in the Online-Only Option will be expected to review a series of online modules, pass associated quizzes with a score of 80 or higher and submit a final reflection paper. The following topics will be covered:

Saturation diving history and theory
Emergency procedures
Recompression chamber use
Watch standing
Life support considerations
An introduction to surface-supplied diving and practical applications.
Aquarius Reef Base science (marine science and space-related)

Students who pass the Online-Only Option (see assessment and earning criteria) will receive an FIU micro-credential. 

Course Fee*: $249
Prerequisites: None
Enrollment Cap: None
Content Delivery: Online
Online Course Access: June 1 - 

August 25, 2023

Who Should Enroll: Teachers and lifelong learners who wish to gain fundamental knowledge of scuba diving and underwater data gathering techniques.
Enrollment Dates: April 5 - June 1, 2023
Registration link: https://fiucas.radiusbycampusmgmt.com/ssc/aform/M00z4mA87k0kx6700qKxF.ssc
Earning your Micro-credential:  assessment and earning criteria, claiming your badge and post-course survey 

 

*Course fee includes access to online learning platform.

Online+Experiential Option

Certified open water scuba divers wishing to obtain a specialty diving certificate card from TDI will be required to enroll in the Online+Experiential Option. This includes completing and passing all the requirements listed in Online-Only Option, passing a cumulative written exam with a score of 80 or higher, and exhibiting competence in relevant diving skills. Skills development will take place at the Aquarius Reef Base facility in Islamorada, Florida and at offshore dive sites over a five-day period. Practical skills development will include:

Introduction to surface-supplied diving (in both confined and open water)
Orientation dive at Aquarius
Participation in operational simulations (both on shore and at Aquarius)

Students who pass the Online+Experiential Option (see assessment and earning criteria) will receive a TDI specialty certificate, an Aquarius Advanced Training: Introduction to Saturation Diving certificate from FIU's Medina Aquarius Program and an FIU micro-credential.

Course Fee*: $2,200 (includes both options)
Prerequisites:

Successful completion of the online modules
Open water scuba certification from a nationally recognized training agency or military
Completed diver resume 
Completed liability waiver.

Enrollment Cap: 6 students (additional sections may be scheduled with sufficient demand).
Content Delivery: Online (Access to the FIU Develop online learning platform will be provided after registration); in-class instruction and hands-on experiential skills development
Registration link: https://fiucas.radiusbycampusmgmt.com/ssc/aform/M00z4mA87k0kx6700qKxF.ssc
Online Course Access: June 1 - 

August 25, 2023

Skills Development (Islamorada, FL): 

August 20-25, 2023

Who Should Enroll: Certified divers looking for a once-in-a-lifetime opportunity to board Aquarius and work side-by-side with habitat technicians.

* Course fee includes access to online learning platform; offshore dives including use of regulator and buoyancy compensation device. Travel, lodging, meals, incidentals and optional individual DAN membership fees are not included

Please send the above forms plus a copy of the student's open water certification card to thpotts@fiu.edu prior to completing registration and making payment. Note: The medical examination does not have to be completed prior to registration but is required before in-water training can begin.

Tentative Skills Development Schedule: Islamorada, FL

Weather and other factors may require schedule modifications.

| | |
| --- | --- |
| Date | Event |
| Saturday | Arrive |
| Sunday | Afternoon classroom session at the shore base facility |
| Monday | Classroom – surface-supplied diving |
| Tuesday | Dive tank – surface-supplied diving experience; classroom – watch desk familiarization |
| Wednesday | Open water – surface-supplied diving experiential |
| Thursday | Classroom – scenario review; Conch Reef – exterior dive around Aquarius; Aquarius dive (inside) – scenario 1 |
| Friday | Aquarius dive (external) – scenario 2; Aquarius dive (inside) - scenario 3 |
| Saturday | Weather make-up day or depart |