Diver Medic Technician Training Course
Experts at the FIU Medina Aquarius Program use the unique assets of the program to teach a board-certified Diving Medical Technician course designed to prepare students for the NBDHMT board certification exam. 
Students enrolled in this 48-hour NBDHMT-approved Diving Medical Technician course engage in didactic and practical training that addresses recognition, stabilization and treatment of decompression and other diving-related injuries. 
Specific course topics include: 
Diving physiology
Recognition of marine life hazards
Clinical assessment of diving injuries such as barotrauma and decompression sickness 
Neurological examinations 
Hyperbaric chamber operations  
Students drill using an on-site 72" multi-place chamber and gain an understanding of operation of a vessel-based Transportable Recompression Chamber System (TRCS). Upon successful completion of the course, students may apply to NBDHMT for certification as a Diver Medic.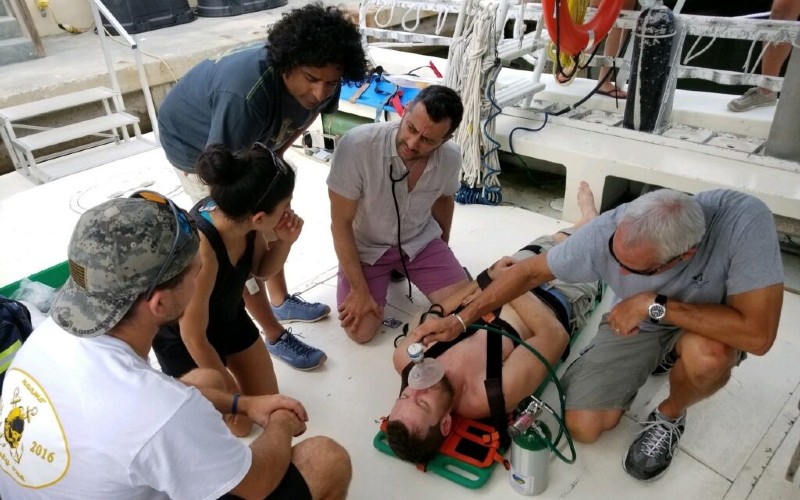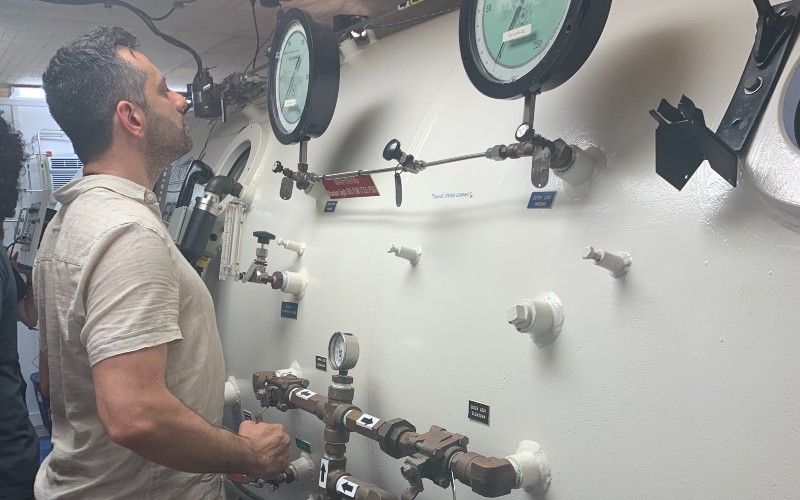 Course Fee: $1,300 ($800 if you are taking it for recertification)
Prerequisites: Current EMT certification (certified military, commercial or recreational diver certification preferred) and Fitness to Work in a Pressurized Setting form signed by a physician.
Enrollment Cap: 8 students (additional sections may be scheduled with sufficient demand).
Content Delivery: In-class instruction and hands-on experiential skills development at the Aquarius Reef Base facility in Islamorada, Florida.
Who Should Enroll: Anyone who is interested in learning about how to treat diving-related emergencies in a professional setting. To receive certification through the NBDHMT board, you must be certified as an Emergency Medical Technician.
Course Dates: October 30 – November 4, 2023 (NBDHMT board certification exam will take place on November 4th)
Enroll: Payment link for the October 30 – November 4th course.
For any questions, please contact Mr. Roger Garcia at 305-664-2916 x207 or via email at garcirog@fiu.edu.
Course Schedule

TIME

MON

TUE

WED

THUR

FRI

0800

Introduction to DMT

Decompression Sickness

(Continued)

Recompression Chamber Operations

Airway Management

(Practical Lab)

 

Diving Casualty

Scenarios Lab

 

 

    0900

Diving Physics

 

Casualty Assessment / Neuro Exams

 Airway Management

Intubation & Suction

(Double Lumen)

 

 IV Fluid Therapy

 (Practical Lab)

 

 

1000

 

 

  IV Fluid Therapy

Urinary Catheterization

IM & Sub Q Injection

(Practical Lab)

 

 

1030

Hypothermia

 

 

Neurological Exam Practical Lab

 

 

 

1100

 

 

Phlebotomy

 

Phlebotomy

(Practical Lab)

 

1130

Abnormal Gas Levels

 

USN Treatment Tables

 

 

 

 

1200

 

LUNCH BREAK

 

LUNCH BREAK

 

LUNCH BREAK

 

LUNCH BREAK

 

LUNCH BREAK

1230

 

LUNCH BREAK

 

LUNCH BREAK

 

LUNCH BREAK

 

LUNCH BREAK

 

LUNCH BREAK

1300

Abnormal Gas Levels

(Continued)

USN Treatment Tables

(Continued)

Basic Pharmacology 

Drug Administration  

Chest Decompression & Nasogastric Tube

(Practical Lab)

    

 

1330

Oxygen Toxicity

 

 

 

 

 

1400

 

Saturation Treatment and Emergency Gasses

IM and Sub Q Injections

Recompression  Chamber Operator (Practical Lab)

 

 

1430

Barotrauma & Vertigo

 

 

 

 

 

1500

 

Differential Diagnosis

 

Urinary Catheterization

 

 

    

 

1530

 

 

 

 

 

1600

Pulmonary Barotrauma

Marine Animal Injuries

 

Chest Decompression

 

 

    1700

Decompression Sickness

 

 

Nasogastric Tube Insertion

 

 

 

     1800

 

Quiz # 1

Quiz # 2

Quiz # 3

Review for NBDHMT Exam