Title: 

Veterans, Youth and Special Need Agriculturists Assistance Program 

(previously titled "Outreach and Assistance for Socially Disadvantaged and Veteran Farmers and Ranchers Program"

)

Principal Investigator(s): Mahadev Bhat and Krish Jayachandran
Funding Amount: $936,221
Funding Source: U.S. Department of Agriculture
Timeline: 09/01/15–3/31/21
The Veterans, Youth and Special Need Agriculturists Assistance Program (referred to as the Farmers Outreach Program) aims to empower small and under-represented farmers in urban sustainable agriculture, as well as beginning farmers who are interested in starting their own business.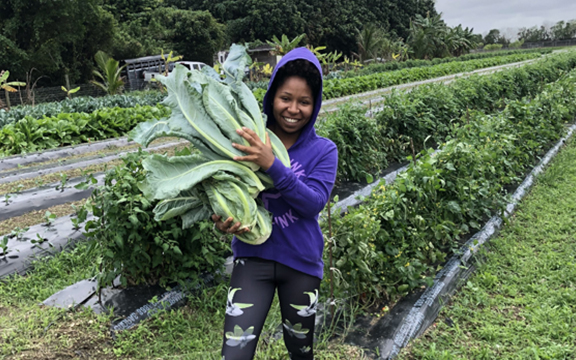 This program is predominantly geared towards assisting veterans, small farmers, minorities, and the socially disadvantaged by offering hands-on farming experience through apprenticeships, agricultural-related workshops, and technical one-on-one advice on USDA loans/grant programs. We have collaborated with several farms, nurseries, and organizations throughout South Florida to provide this engaging and practical learning experience.
The apprenticeship entails of 100 paid hours working alongside experienced farm hosts to learn what it takes to be a South Florida grower. Once completed, apprentices may choose to apply for the second stage of the program. This advanced apprenticeship provides the opportunity for apprentices to develop their own agricultural business plan and have a deeper understanding on what it takes to run a farm or nursery business. This program has been supported through various grants from the USDA Office of Partnerships and Public Engagement (2501 Program) and USDA National Institute of Food and Agriculture's Beginning Farmers and Ranchers Program.
Read more about the project in this Miami Herald article or in this FIU Magazine article.