The Field Operations Center is responsible for maintaining and scheduling a fleet of airboats, saltwater boats and other vehicles. In addition, we maintain an inventory of field and safety equipment such as: spotlights, personal flotation devices, whistles, fire extinguishers, flares, first aid kits, blankets, VHS radios, GPS units, flashlights, signal horns - a safety kit and accompanying tool kit appropriate for that boat is required when the boat is checked out. 
Along with following boat safety, a Float Plan is MANDATORY for all field crews using either airboats or marine boats, and they must be filed at least 24 hrs in advance.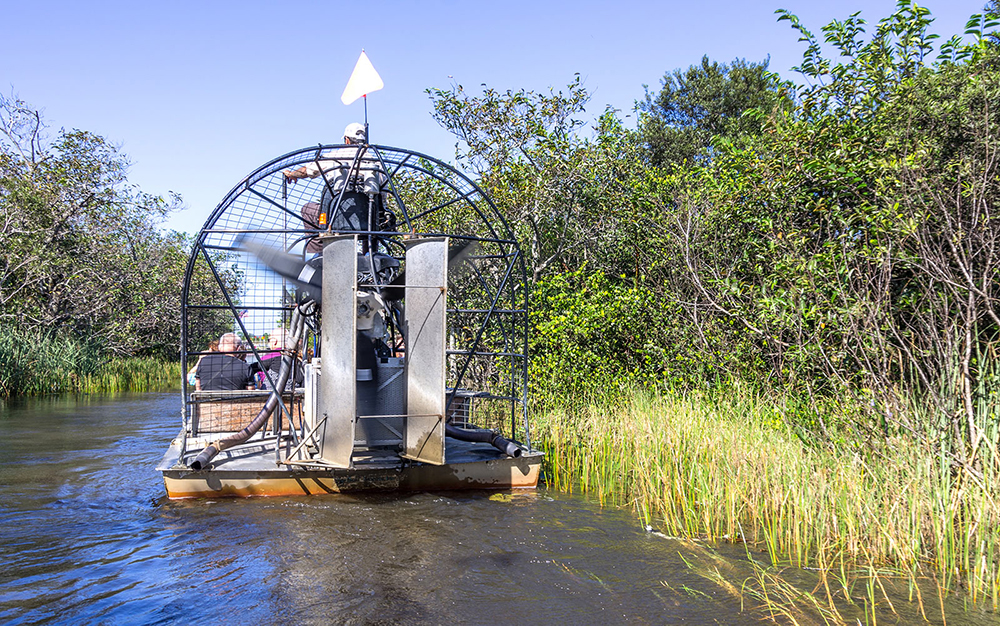 If you'd like to reserve any equipment, please visit the appropriate calendars below:
Please visit the Office of Research to view the most current rates for usage of the below equipment.
| | | | | | | | | | |
| --- | --- | --- | --- | --- | --- | --- | --- | --- | --- |
| FOC Branch | Contact | Vessel or Truck | Type of Boat/Truck | Type of Fuel | Number | Year | Location | Rate (name) | Boat Reg./License No. |
| Freshwater | Gonzalez-Collazo | 14' Airboat | Airboat | Gasoline | AB14 | 2015 | MMC | Airboat | FL 4890 PY |
| Freshwater | Gonzalez-Collazo | 15' Airboat | Airboat | Gasoline | AB15-1 | 1995 | MMC | Airboat | FL 2015 JA |
| Freshwater | Gonzalez-Collazo | 16' Airboat | Airboat | Gasoline | AB15-3 | 2018 | MMC | Airboat | FL 7719 RN |
| Freshwater | Gonzalez-Collazo | 16' Airboat | Airboat | Gasoline | AB16-1 | 2004 | MMC | Airboat | FL 6905 MS |
| Freshwater | Gonzalez-Collazo | 16' Airboat | Airboat | Gasoline | AB16-2 | 2012 | MMC | Airboat | FL 0089 PJ |
| Freshwater | Gozallez-Collazo | 15' Airboat | Airboat | Gasoline | AB15-4 | 2021 | MMC | Airboat | FL 0232 TC |